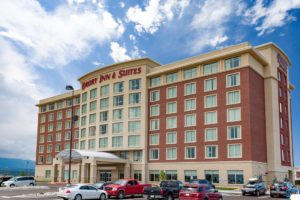 Drury Inn & Suites Colorado Springs Near the Air Force Academy
1170 InterQuest Parkway
Colorado Springs, CO 80921
P: 719-598-2500
Group #: 10090262
Amenities at the Drury:
Complimentary Hot Breakfast
Complimentary Evening Drinks and Snacks*
Complimentary Wi-Fi Throughout the Hotel
On-Site Facilities (business center, fitness center, pool)
Other Lodging Options Near the Summit
For those that wish to avoid renting a car, there are two hotels within walking distance of Focus on the Family. Please check online reviews of any property you choose. We cannot guarantee the cleanliness or condition of properties other than our preferred hotel.